Find a Broker
Find a Broker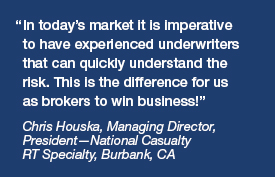 UFG Specialty offers commercial insurance exclusively through wholesale brokers on both an admitted and non-admitted basis.
We specialize in a broad range of classes written on a monoline inland marine, excess property, casualty or excess casualty basis, including excess auto.
---
Appointed Wholesale Brokers
Contact one of our appointed brokers to submit business today.